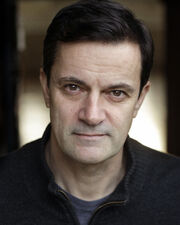 Tony Gardner (born 10 January 1964) is an English actor and doctor. He qualified as a doctor at Guy's Hospital in 1987, then as a General Practitioner in 1993. He combined medicine and comedy during the 1990s as half of the award-winning comedy duo Struck Off and Die with Phil Hammond.
He eventually left medicine to become an actor and is best known for playing Brian Johnson in CITV's My Parents are Aliens (episodes of which he also wrote) and Michael, the café owner in Jack Dee's BBC sitcom Lead Balloon. In 2009-10 he starred in three plays directed by Sir Peter Hall. In 2011 he played Professor Tony Shales in Channel 4 series Fresh Meat. He is currently appearing as Lieutenant Colonel in Bluestone 42, after appearing as Dan Miller in the BBC political comedy The Thick of It. He recently starred as Stapleton Petherbridge in Doctor Who Big Finish audio The wrong Doctors.
Tony Gardner is the only actor to appear in all episodes of My Parents are Aliens.